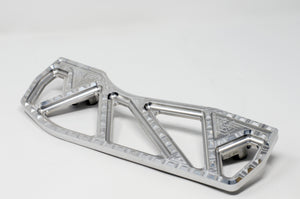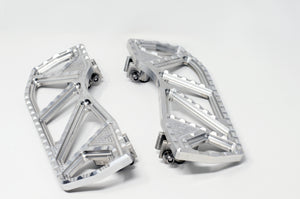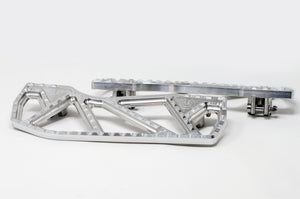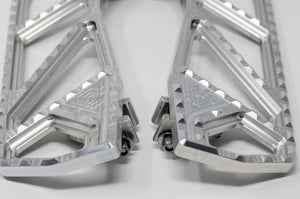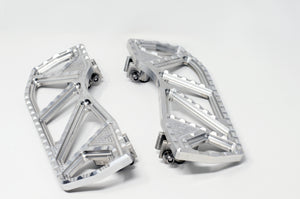 2021 Bagger Floorboards Raw Aluminum
We are super excited to introduce our new Bagger MX Floorboards. These bad boys are made from 6061 T6 alloy aluminum by CNC machining. These materials are up to 50% Lighter than most stock floorboards. Color anodizing surface treatment helps improve the corrosion resistance and gives a badass custom look. The comfortable serrated foot surface area gives you a wider area for your feet and provide a good bite on the bottom of your shoe. All fastener are made from stainless steel for wear-resisting and resisting corrosion. Our Floorboards measure in at 12 x 4.5 inch giving you a large area for optimum comfort.
Please note that the raw floorboards will show some milling marks from the CNC process. These floorboards are ideal for powder coating or polishing. If your looking for a clean look in the color check out our silver anodized product. 
If you are interested in passenger pegs you can purchase anything in our store under DYNA/FXR/SPORTY as long as you have a rear single mount bracket...
Fits: All 1984-Current HD Bagger/Touring Models
PART NUMBER BF-002-RAW