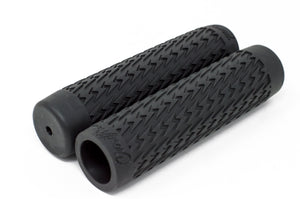 Crossthread Flash Grips
Check out our new Flash Grips! Made from a aggressive hard rubber for an aggressive grip. Great for rowdy riding! Fits 1 inch bars. Sold in pairs. Throttle tube not included. Currently just available in black but we hope to offer more color options in the future. 
Our grips are made to fit your bars and throttle tube tight! So when installing we recommend warming up the grips with some heat, and applying some WD40 to the inside of the grips before trying to install. This will allow the grips to slide on easily and be manipulated to your prefect fit. 
PART NUMBER UP-003-BLK