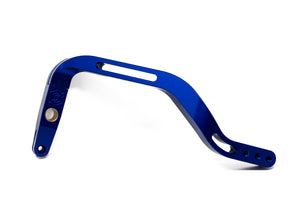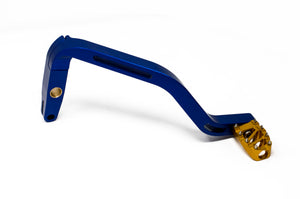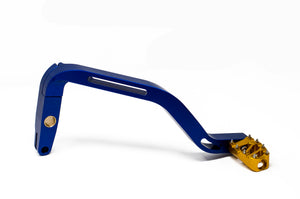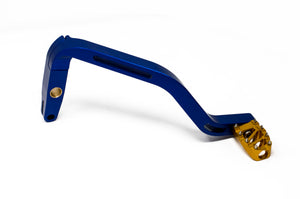 Blem Low Rider Brake Arm Blue
We have a few blem arms with scratches or some discoloration.  These arms are good options of powder coat or can be run as is. 
This listing is for a BLUE brake arm. At check out you can select your pedal color. This is best if you want to powder coat. 
Our Brake Arms are made from 6061 T6 alloy aluminum by CNC machining. These materials are up to 50% Lighter than most stock pedals.  Color anodizing surface treatment helps improve the corrosion resistant and gives a badass custom look. Your pedal can rotate 360 degrees, making this brake pedal perfect for whatever riding style you prefer. We have also drilled three different mounting spots for the brake pad so you can make it further, or closer, than stock position. The comfortable serrated surface area of the pedal gives you a great grip while braking. All fasteners are made from stainless steel for wear-resisting and resisting corrosion.

You are able to mix and match colors of the brake arm and pedal to give you a great custom look. There are separate listings on our page for different arm colors. Please select the color of pedal you would like at checkout.  
*Please Note* We unfortunately had a fitment issue with these arms and one of the pieces of the arm had to be remade. Because of some circumstances outside of our control there may be a slight color difference between your arm and the mounting piece it attaches to. If this is an issue for you we recommend buying in black, raw, silver, or purple. The color difference is very sublet and we feel wont bother most.
Install: IT IS ABSOLUTELY NECESSARY TO USE LOCTITE WHEN INSTALLING THIS PRODUCT!!! Loctite, and everything you need for install and setup is provided for you. Please be sure the loctite on all bolts during the install.  On our Instagram there is a video of brake arm assembly. If you have any questions please feel free to contact us.
Fitment: Dyna Low Rider Models with Further Forward Mid Controls
 Part Number: DB-002-BLU
(ADD -P-001+PEG COLOR FOR SPIKED PEG)
(ADD -P-002+PEG COLOR FOR 2021 PEG)